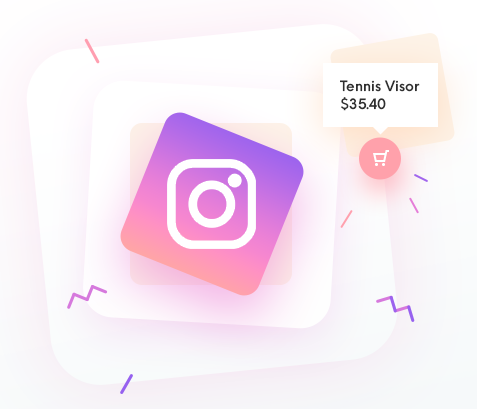 Shoppable Instagram Feed Extension for Magento 2
Fully compatible with Athlete2 Strong Magento 2 Theme
Multiple Instagram accounts supported
Both personal and business accounts supported*
Showcase Instagram Images & Videos on homepage, product page or any other page in your store.
Popup with details and large image.
Show album or video directly in grid. Video can be played on click or hover.
Show Linked/related products for each post in popup
Various layouts for related products in popup
Add products to cart or Wishlist directly from popup.
Hotspots – display additional information in tooltip or highlight linked products on hover
Customize each hotspot – various hotspots styles and icons.
Customize everything – Lots of appearance options.
Various layouts and hover styles for posts in grid
Show feed in a Carousel Slider
Multiple grid layouts
Show linked Instagram posts on product page
Share and open specific Instagram posts in popup via direct link
Automatically fetch posts from Instagram by Cron
Fully responsive
Open Source 2.3.x - 2.4.6

v

Free Updates

v

100% Open Source

v

6 Months Free Support

v

15 Days Money Back
30% Discount toAthlete2 Theme Customers. * Applied on checkout, you need to be logged in.
$149.00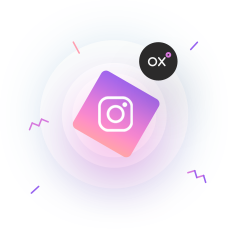 Shoppable

Instagram Feed
in your Magento 2 Store
Give your visitors possibility to purchase products directly from Instagram feed on your website.
Show Instagram feed anywhere on your Magento 2 store. Add hotspots, link products to Instagram posts and show them in a fancy popup.
Show post details with related products in a fancy popup
Add hotspots: linked to a product or with custom content
Add product to cart or wishlist directly from popup
Various grid layouts for related products
Lots of customization options for popup and other elements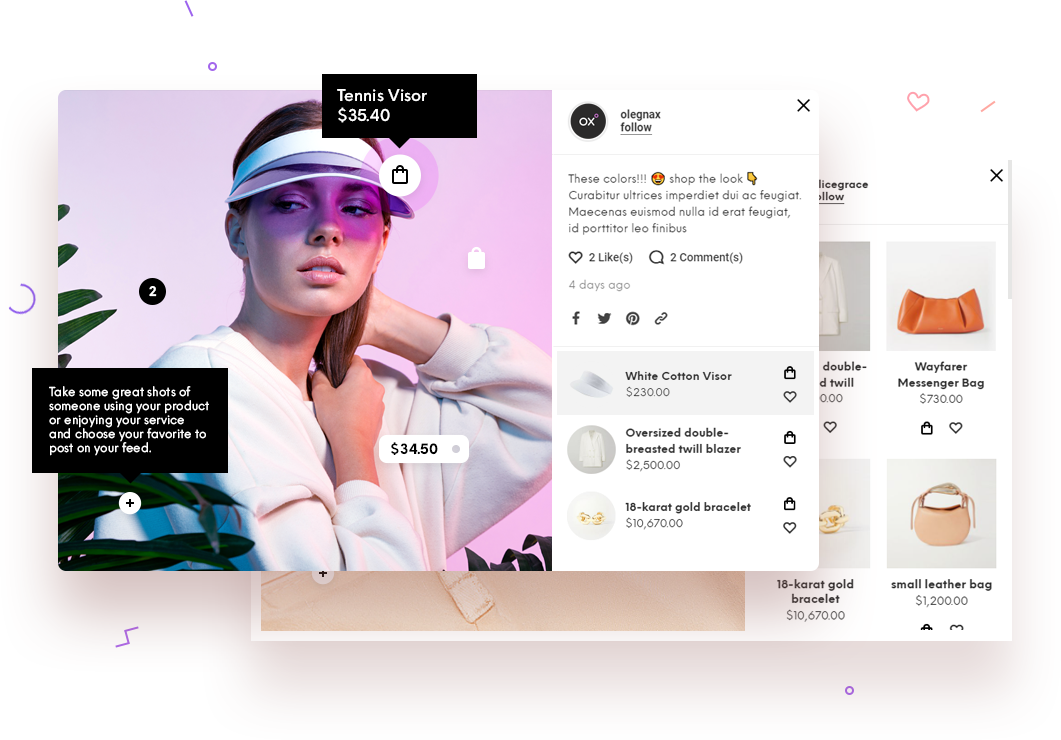 various
Grid Layout options
Set amount of columns for desktop, tablet and mobile screen resolutions. Set images to show per page.
Choose from various grid layouts. The look of layout with big image depends on the columns you set.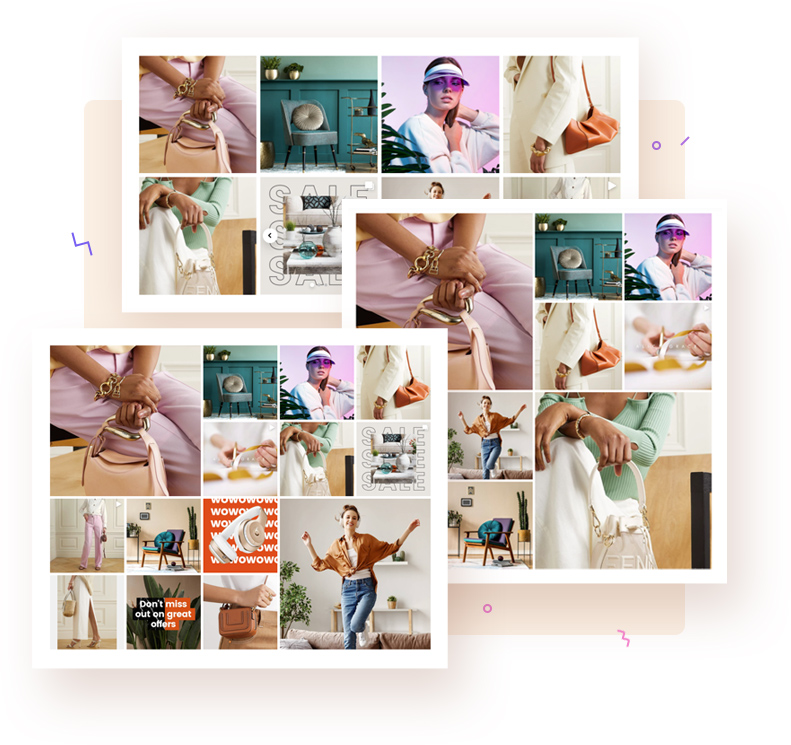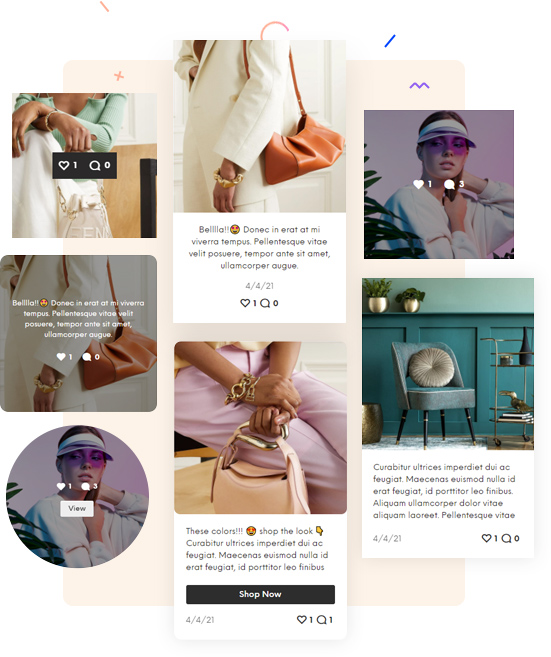 lots of possible
Layouts and hover styles
for post box in grid
You can mix & match various options to achieve different results:
Circle image style
Image roundness
Item border roundness
Content below image
Content on hover
Show/Hide each element
Various Hover animations
Various icon styles
Boxed style
Content alignment
Video & Album in grid
You can show images only or also video and carousel for your Instagram posts in grid.
Video can be played directly in grid either on hover or click.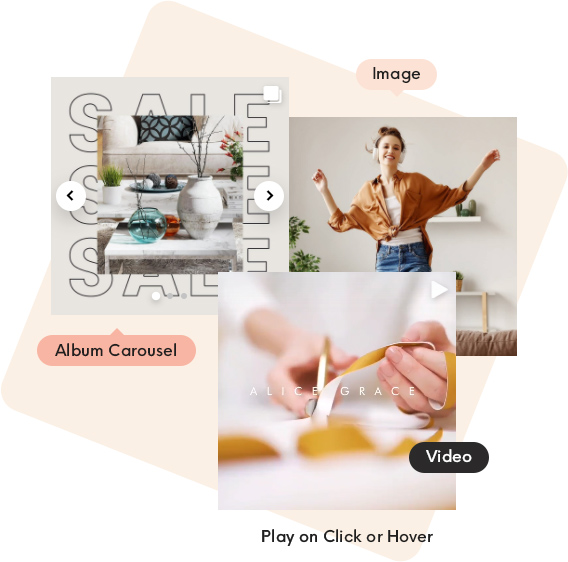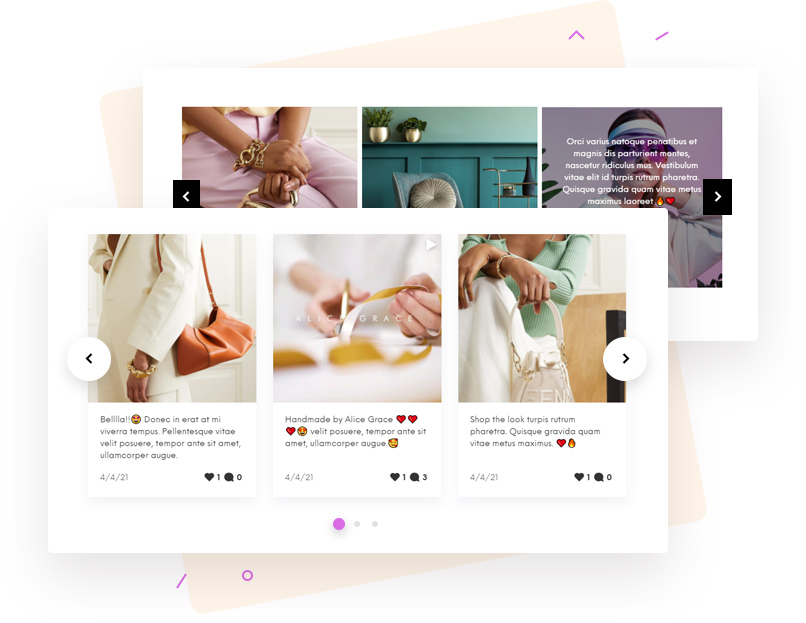 Carousel Slider
You can adjust various slider settings such as loop, rewind, dots & arrows, autoplay & speed, etc. for each widget.
Also you can change arrows and dots styles globally.
various layouts
Linked/Related Products
Add related product to your Instagram posts. They will be show in a popup.
Sell product directly from popup without navigating to the product page.
You can choose from multiple layout options. Enable/disable add to cart and wishlist. Set colors and image roundness.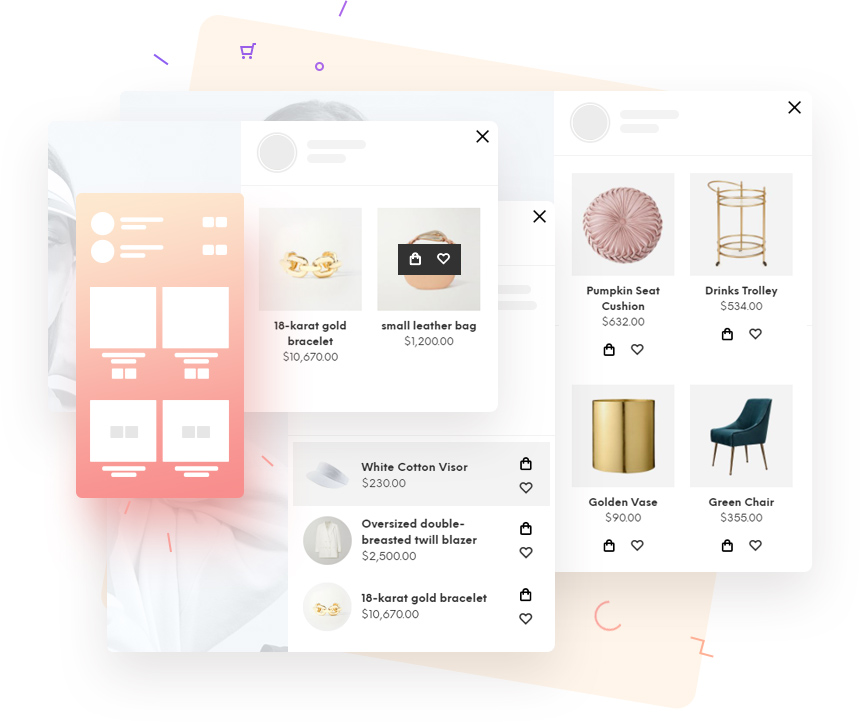 Share popup URL
Share and open specific instagram posts in popup via direct link.
Each popup have specific url which can be copied or shared via social share butons.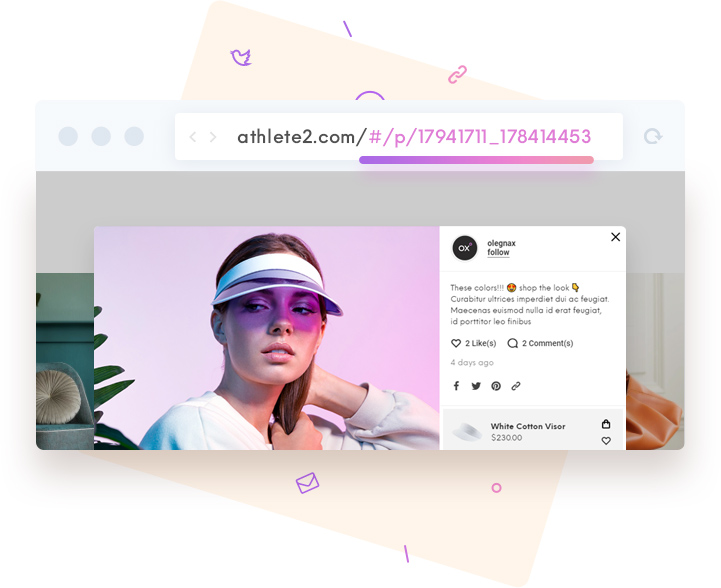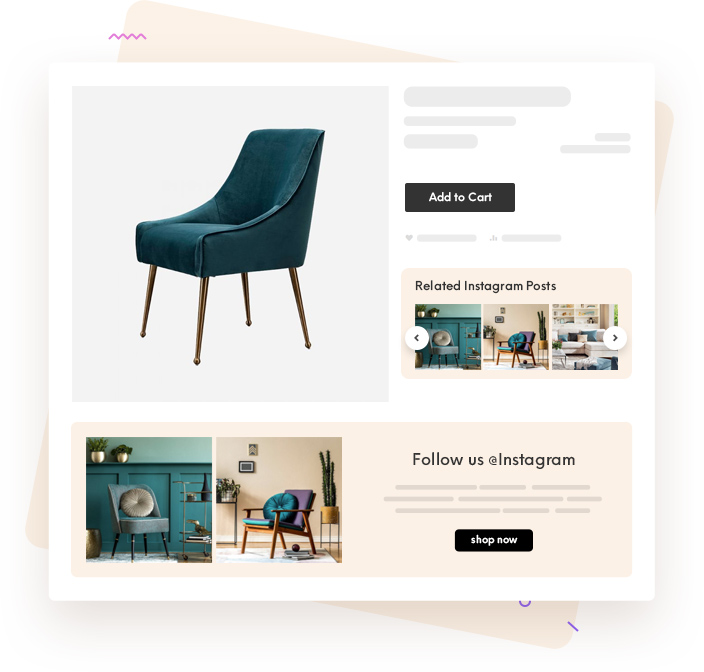 Related Posts
on Product Page
You can show product related/linked (or all) instagram posts on products page.
Choose location where to add your instagram widget. Adjust widgets settings and content layout.
Add custom content if you wish to add some info or a link to full instagram gallery.
various customization options
Fully customizable and can easily adapt to your design
You have full control over the look of your Instagram feed and Modal. Set colors for feed, modal, hotspots, tooltips, product page block, etc. You can choose from various predefined icons styles separately for feed and modal. Adjust font properties for feed, modal and tooltips text. Adjust styles for hotspots and products in modal. Choose style and colors separately for each carousel slider and so on.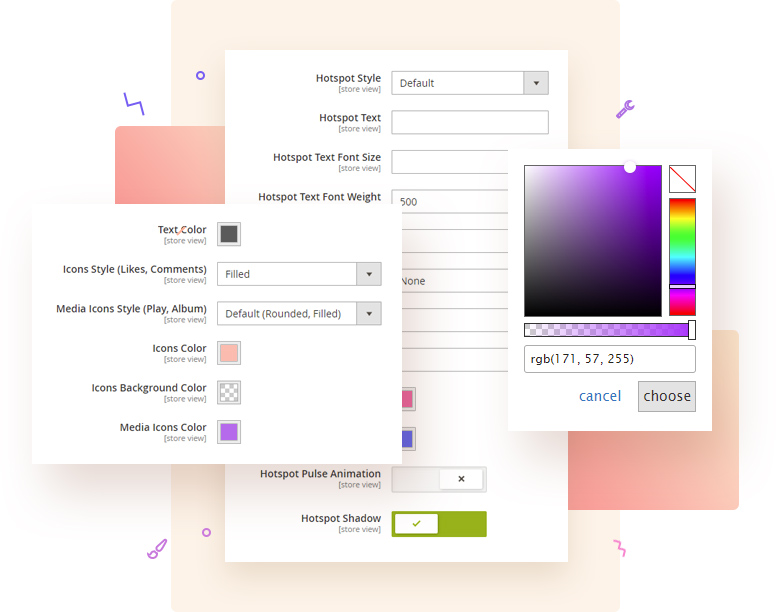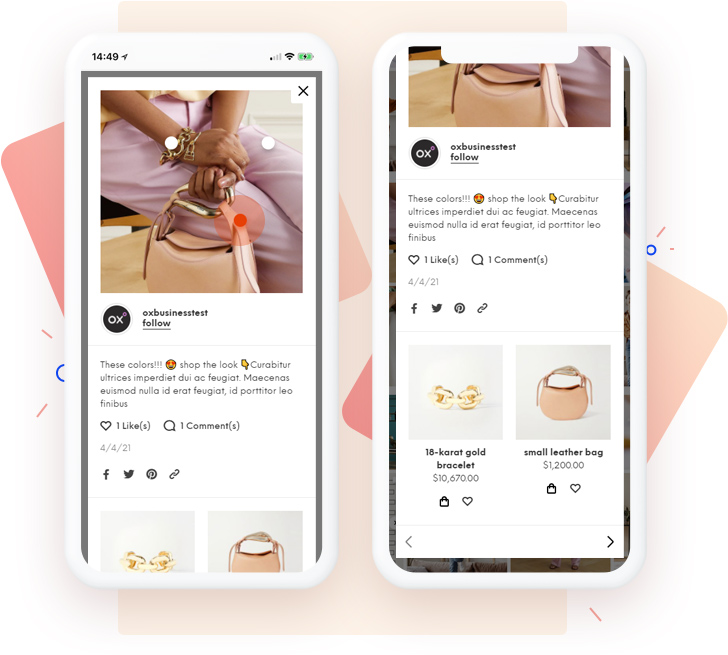 Fully Responsive
Made to provide best experience possible both on desktop and mobile devices.
Multiple accounts
allowed
You can add as many account as you need. Show posts from different account in the same or separate feeds. Simply choose post from what accounts to show in each widget.
Personal and Business
accounts
Both Personal and Business Instagram accounts are supported. However only business accounts allow to show likes and comments count. Also business accounts does not require to renew Instagram token.
Fetch posts
automatically
New posts, comments & likes counts and other data can be automatically fetched every day. Requires Magento 2 cron to be enabled.