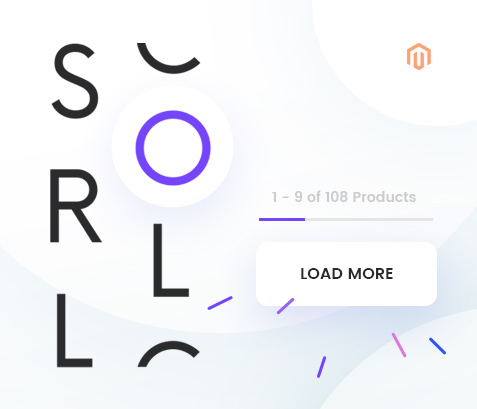 Infinite Scroll & Ajax Pagination Extension for Magento 2
Full compatible with Athlete2 Strong Magento 2 Theme
Improve user experience and conversion rate.
Load products on catalog without reloading the page.
Load next page automatically on scroll or manually on button click.
Ajax pagination. Load specific page by clicking on page number.
Choose ajax pagination behaviour (append or replace pages)
Preload next page silently.
Share or return to the specific page. No need to scroll all over again.
Products loaded amount progress bar.
Works on search results page.
Set custom selectors (allows to work with any custom content, custom theme or extensions)
Lots of button, preloader styles and customization options.
Add custom load more button icon.
Choose separate button and preloader styles for catalog and widgets.
Works with Widgets or any content that have Magento pagination.
Open Source 2.3.x - 2.4.6

v

Free Updates

v

100% Open Source

v

6 Months Free Support

v

15 Days Money Back
10-45% Discount to existing customers. * Applied in cart, you need to be logged in.
$75.00
Infinite Scroll. Load More. Ajax Pagination. Works with Widgets.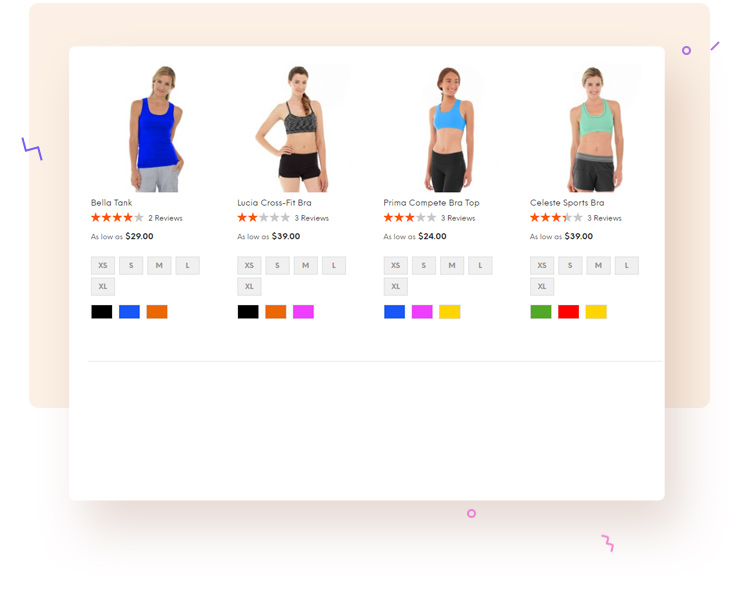 Browse products in catalog without reloading the page
Olegnax Infinite Scroll Extensions for Magento 2 allows to load products on catalog without reloading the page simply when you scroll the page. This vastly reduce the time your visitors need to see next products, so they stay engaged on your website what can improve user experience and conversion rate.
Load products on button click
Products can be loaded Automatically on scroll or Manually on button click – this option will replace default pagination with "Load more" button. Endless scrolling can be tedious so many big stores load more products on click.
Show information about loaded and total products
We've added a fancy indication of how many products browsed and how many left, to give your visitors understanding of their browsing progress.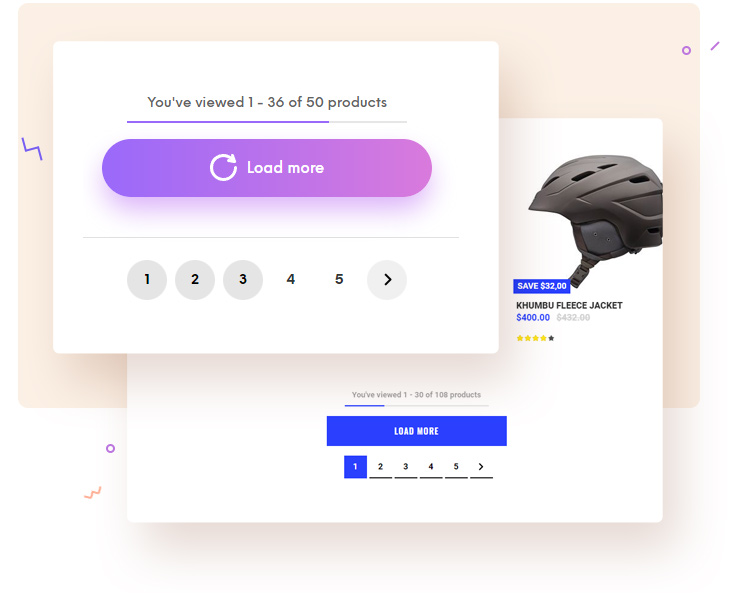 Ajax Pagination
You can give your visitors possibility to navigate to certain product page without reloading the page. Your customers will see default pagination but it will load products with ajax. You can show pagination only or with load more button.
Works with Widgets or any content that have Magento pagination
It not only works for catalog pages but also for any page or widget that have pagination. See it in action with our Shoppable Instagram Feed extension widget or default Magento product widgets.
Preload next page silently
One of the important features of Olegnax Infinite Scroll is that products are preloaded. This allows to load more products almost instantly. Without this extension you need to wait 10 seconds in average to see the next page, so this can save hours for your regular customers.
Work on Search Results and Compatible with ElasticSearch
Fast and relevant search is one of the most crucial features for any store so we made sure that our extension work well with ElasticSearch. And of course, Olegnax Infinite Scroll work on search results page out of the box.

Share or return to the specific page, no need to scroll all over again.
We remember your current page position. I'm sure you've faced a situation when you browse catalog page, choose a product to see the details and when you get back to catalog page you are a the start of the page and need to scroll all the way down again. This won't happen with your customers. In Olegnax Infinite Scroll we track your current position and add it to your website URL, so you can even share the page at the same position where you've stopped.

Custom Dom Selectors
This allows to use infinite scroll with custom themes or extensions even is they have custom dom structure. You can add as many custom dom selectors as you need. For example to cherry-pick on what pages to enable infinite scroll.
various customization options
Fully Customizable. Various Preloader and Button Styles.
Olegnax Infinite Scroll comes with lots appearance options and various predefined button and preloader styles which will help you to fit in any design.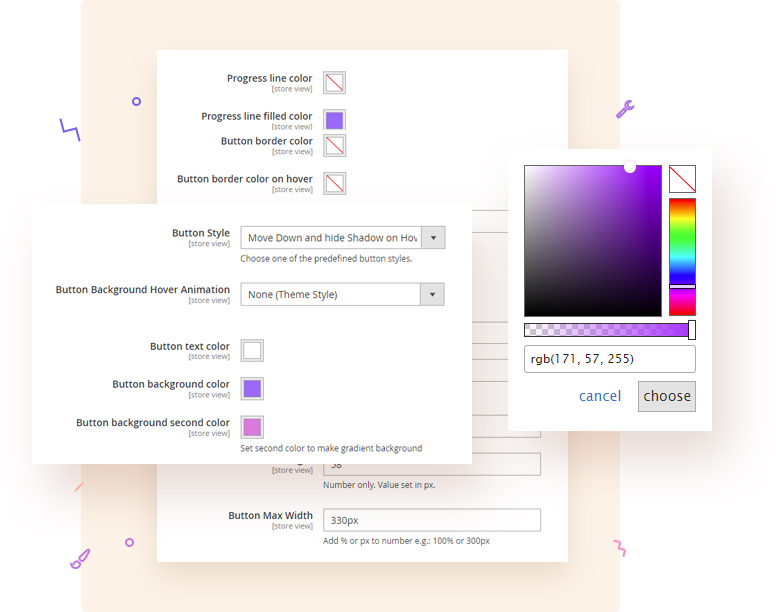 a look behind the curtain
Backend Screenshots
You can have a quick look over the admin panel of our Olegnax Infinite Scroll for Magento 2 and the options it provides on the screenshots below.